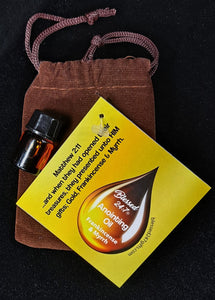 Blessed 24:7 FREE SHIPPING (sold in sets of 5 packages) 10% off when you purchase multiple sets, 5 or more sets (5 sets = 25pcs) discount automatically appears at checkout. This item is sold in a Brown Velvet Pouch
Frankincense & Myrrh (Anointing Oil)
Each package has 1 single miniature amber glass 2ml 5/8 dram bottle filled with Frankincense & Myrrh.  Comes in Brown Velvet Pouch with scripture written on notecard. 
Random Acts of Kindness is Blessed 24:7's way of providing inexpensive gifts to give to others for their acts of kindness towards other.
These particular gifts are also great as (event) gifts for small group gatherings, meetings or conferences.
Its scent is earthy yet uplifting, with a slightly sweet-woodsy aroma. When inhaled through the nose or diffused into the air, frankincense may promote a sense of peace, relaxation, grounding and connectedness. It's the perfect companion for getting into a meditative, spiritual state